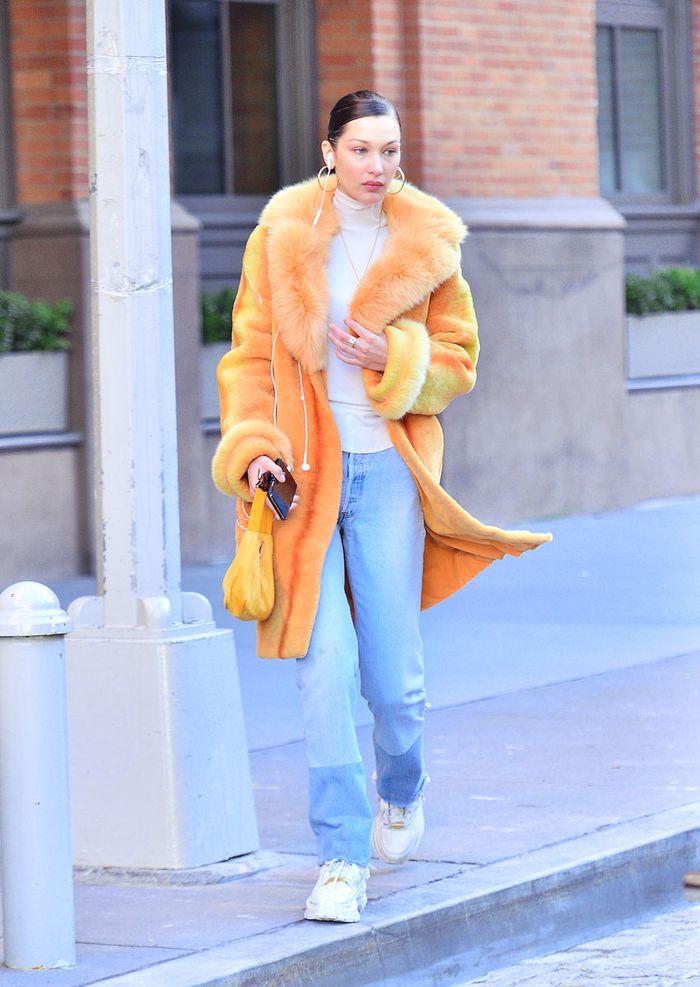 Blog #9- 14 Fall & Winter "Bottoms" to Keep Your Legs and Tootsies Festive and Bright
Welcome back guys and gals. And whew- we're almost finished (finally) with what we're all dying to wear this season to stay cozy and warm but also sexy, chic, classy, and gorgeous! So last up is "bottoms," starting with: 
1. The Legend of Baggy Jeans- As I'm sure you've all noticed by now, all pants, but maybe especially jeans, are moving away from the skinny silhouette of the millennials in favor of all things the loose fit, wide leg, and baggy that Gen Z prefers, though I would always urge you, dear readers, to wear whatever jean type flatters you and adds signature to your style! Lord knows I've been stubbornly hanging on to the low-rise flare legs of my youth for years. You'll certainly be comfy in this resurgence of an old cut though, and not to worry- there are simply tons of ways to work these into an outfit that don't make you look heavier or like you're trying too hard (two common complaints about the baggy jean that I often hear from above twenty-somethings). Just check out these adorable ones from Morrison with the distressed details and red/black/white plaid underneath, perfect for a Razorback tee and calling our beloved Hogs:
Katie Holmes who is always effortlessly chic, even when just running errands, shows you that all you need is a white tank and sneakers (probably a jacket now too) to pull off this trend:
Hailey Bieber pairs a lighter wash with a lovely lemon yellow crop, coat, and ballcap, bringing sunshine to winter:
And Liu Wen dresses hers up for a night out on the town with a crop and cute blazer:
2. The Dark Denim Knight- Just like fit, we're definitely all free to wear whichever wash flatters us (so we can walk into any room and own it), but super dark seems to be the popular shade right now. You can stick with a bluer dark like Katie Holmes (and just look at that cute, practical puffer she's pairing it with):

Or you can go for a more neutral dark, like these basic staples from ABLE:
But we don't have to reserve our dark denim for pants, instead opting for the same shade in a dressier skirt for work, like Irina Shayk rocking denim on denim here:
Or we can lose the blue altogether and go straight to the black baggy jean that Bella Hadid has paired up with a sweater and chunky sandals:
3. Liar, Liar, Utility Pants on Fire- Because right now is all things Y2K (and it was a fun time in fashion- I'm plenty old enough to remember that clearly), we're also seeing the return of the utility pant, another super comfy trend. You can go for a monochromatic look, like Gigi Hadid in a white button-down, pant, and lug sole boot:

The army green that's so popular right now like Emily Ratajkowski in a sexy burnt orange button-down and sneakers:
Or the ever-beautiful and timeless Miss J. Lo in a straightforward khaki utility that matches anything and everything:
4. Texas Chainsaw Leather Pants (and Skirts too)- We can't forget to take a look at popular materials also though, and leather is on the rise, something we've now finally mastered as far as making it look good AND feel good. Here, we see them in a higher waist and looser fit perfect for the weekly rotation at work:

For a night out, check out our rock goddess lady in holiday red, Miley Cyrus:
Or go fun and flared like Kendall Jenner:
But we can also opt for a flirty micro mini leather skirt, like this gorgeous deep red:
5. How the Grinch Stole the Micro Mini- Because it can't be, shouldn't be, all pants all the time, even in winter, lest life get dreadfully boring, we have the micro mini skirt trend. Ladies, I don't care what your age is (that's why we invented stockings, isn't it?), I triple dog dare you to try out a flirty little number like the leather skirt above.
A sweet little tennis skirt in any color of the rainbow:
A saucy brown leather like Hailey Bieber here, something that would look to die for with a dressy jacket or blazer:
Or a lovely watercolor print like Kendall Jenner if you want a softer, more feminine look:
6. Mighty Morphin Power Pants and Trousers- But because it's fall/winter and we do have to leave the house for work now, I give you the power pant. You might be asking yourself what separates these from your regular ol' basic trousers, and I answer with- you go big or you go home, people. Whether that's with cut, leg opening, color, or print, the point here is to grab passersby's attention and make them appreciate your painstakingly perfect outfit, mainly the bottom half. So it's sort of like the out out fashion we talked about with the outfit blog. You can mimic the Duchess of Cambridge and be a queen too, using that gorgeous purple to highlight your legs:

Or Lady Gaga, looking very classy here, drawing attention to those tailored and crisp whites with a platform heel only she can pull off:
Kaia Gerber captures the eye with cut and waist here in a look perfect for literally anything:
Cara Delevingne makes lilac pop against white:
Or you can go bigger.
Jenna Coleman of Doctor Who fame who's sporting yellow flowers against royal blue, the ruffle details at neck and wrist making the traditional male-dominated suit ours, all ours, ladies:
My absolute crush, Kristen Stewart, channeling her inner Princess Di in light and airy blue:
The lovely Blake Lively in head to toe velour, another "it" material this season:
Or Olivia Munn, a vision in gold satin:
Now before we move on to shoes, fabulous shoes, I will take a moment to address the missing elephant in the room, ie. Bea- why aren't we talking about rise in pants? Well, because we seem to be in a state of flux this season. High rise is in, and it flatters now, comfortable too finally thanks to the blends we use in pants to give them some stretch, but low rise is also creeping back in (although the red-headed stepchild, mid-rise doesn't seem to be on anyone's wish list at the moment) thanks to our obsession with Y2K fun. So I will simply round out our pants discussion by urging you to go with what makes you feel good. But get out of your comfort zone every now and then too and try a rise you might normally not. If I can sit here writing this wearing pink as a redhead, two things that many think shouldn't go together unless you're Molly Ringwald, then you can trade in your low-rise skinny for a high-rise flare or swap your super high bell bottom for a low-rise baggy jean.
And now for shoes (yay)! And what would a section on shoes be without our beloved Carrie Bradshaw of Sex and the City (reboot coming to a TV screen near you soon) and the woman behind her, Sarah Jessica Parker. Those two vixens and the ladies of Remedy Road have got you covered for all your shoe-spiration. 
7. The Wizard of Silver, Animal Print, or Both- In terms of color this season, what's trending most in shoes is silver, probably more of that out out mindset. So look for a little sparkle in the detail like Bea's dark blue and silver pair here:
Or go full-throttle and strap some disco balls to your feet in time for New Year's kisses like the SJP classic here:
Or like Lisa who's eyeing this silver Sarah Jessica Parker pair (and maybe one of these awesome cocktail dresses):
But animal print (cruelty-free ONLY ladies) is also on the rise, so choose leopard, cheetah, alligator, or snake, and tap into your inner earth goddess like Carrie's knee-high pair:
Or Bea's booties:
And we want to be stylish at home as well, so pair smiley with leopard, and you're all set: 
Of course, the trifecta (difecta?) would be a boot that incorporates both, so let me know when you find such a pair!
8. Star Wars: A New Platform- But what about shoe height? As in just how high can we go and still be trendy (especially if your 5'3'' frame needs a little help in that department like mine)? Good news- platforms and, if you're wobbly in every kind of heel, flatforms are in. You can go steady and safe:
High but reasonable:
Full rock star like the Steve Madden that Lisa has been eyeing:
Or up in the Lady Gaga stratosphere like that heel she's wearing in the power pant pic earlier in this blog.
9. The Empire Strikes Knee-High- As for how far up on the leg itself your boots should crawl this winter, we're back at knee-high and even over-the-knee boots, so break out those micro minis we talked about and keep your calves cozy with something like Carrie's snakeskin pair above.
Or something simpler like Bea's here:
10. Return of the Lug Sole- In case you somehow missed the first nine times we've talked about it in this series of blogs, Y2K is back again (minus all that pesky and irrational fear that the Google was gonna crash and the world was therefore gonna end). And to that end, lug soles are making a big comeback, the only shoe trend I couldn't find Carrie or SJP wearing. So put on your crop sweater, plaid power pants, and lugs to channel your inner Spice Girl or Liv Tyler in Empire Records. Like our lovely Lauren in white here:

Gabby's pair with some bling:
Or Bea's favorite new buy this season (if Carrie wore lug soles, it would totally be this pair, right?):
11. Singin' in the Rainboots- I guess occasionally, we have to be practical in our shoe blog and carefully consider what kind of shoe we should be sporting on rainy fall days and sleeting winter nights. Enter the rainboot which is no longer your great grandmother's, grandmother's, or mother's plain black rubber affair. They now come in all shapes and sizes and a veritable Thanksgiving cornucopia of prints and colors. Like SJP here:

Or the ones Bea uses to get through the sodden streets of downtown Bentonville with her socks still dry:
12. Harry Potter and the Philosopher's Loafers and Oxfords- But for those milder days in December, we have punk loafers and oxfords, more of that dark academia fashion that's so prevalent, like SJP in mary janes which are loafer adjacent:

Lisa's coveted Steve Madden pair from above.
Bea's lower-heeled pair here with a bit of bling:
Or Gabby's buckle oxfords:
And Bea's more masculine oxford vibes:
13. The Chamber of Clogs- If you're fearless enough to leave part of your tootsies bare, you can go for a clog instead, very comfy in Bea's corduroy print:

Or SJP on set:
14. The Prisoner of Fancy Fuzzy Slippers- Or combine the best of sandals and cushy, cozy, comfy winter wear with slippers cool (or warm) enough to wear out of the house, like these from Remedy Road:

Carrie's bit of lavender poof here:
Or Gabby's absolutely adorable Uggs:
And that, ladies and gentlemen, is that. We are now clad from head to toe in gold satin power pants, puffy jackets, halos, logos, and everything in between. See ya next time because this is Bea, signing off!