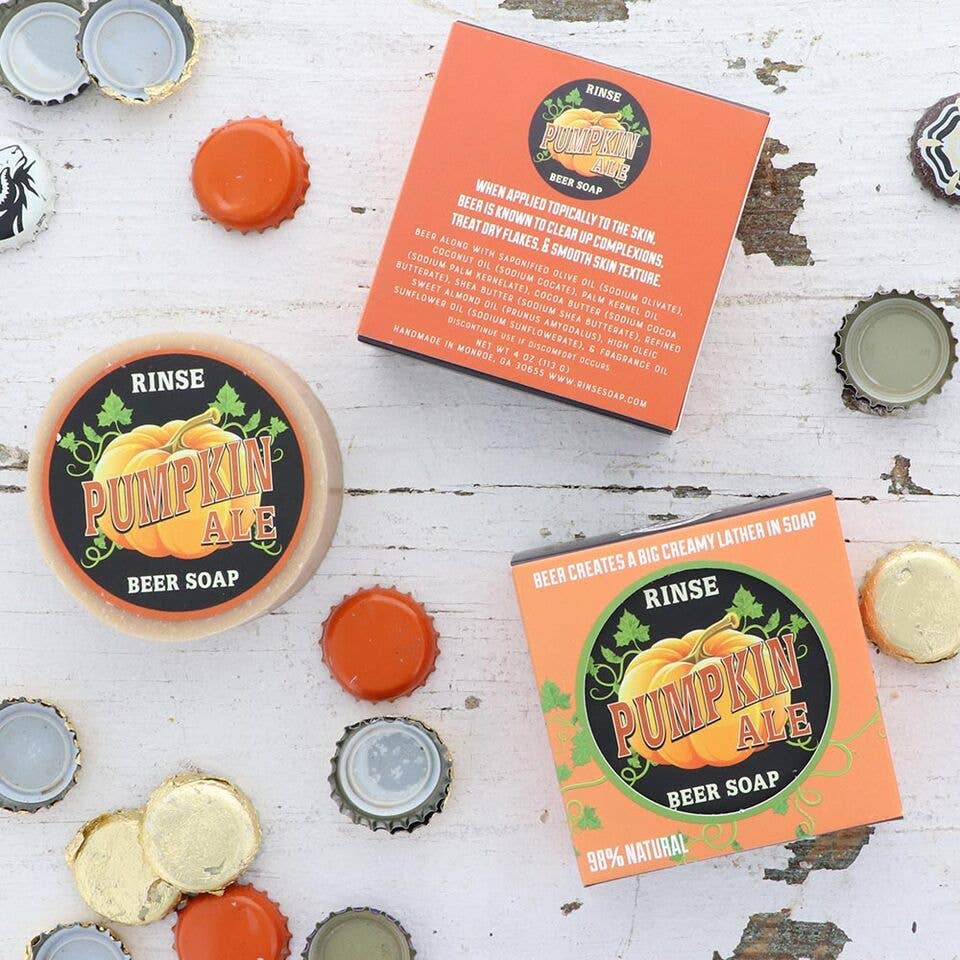 Blog #25-
Spotlight on RINSE Brand
The International Year of Ecotourism and the International Year of Mountains. The Salt Lake City, Utah Winter Olympics, NASA's Odyssey mapping the surface of Mars, and a large annular solar eclipse. The formation of the Department of Homeland Security in addition to Switzerland and East Timor joining the United Nations. And a woman just like you and me beginning a little soap-making empire. What do all these things have in common? The year was 2002.
As per their website, in 2002, Heather, the founder of Rinse Bath & Body Co, was working on the Supercross (dirtbike) circuit and wanted a hobby for her downtime. Despite having a mom who can craft just about anything and teaching herself to knit, all she could master were scarves, so she took a soapmaking class with her mom, and her first try turned out perfect (though her mom's didn't). Kind of seems like fate, right?
As soap has to be made in larger batches, she was giving it away to friends and family at first. But pretty soon, people started making specific requests and insisting on paying her for it. She and her husband founded Rinse Bath & Body Co. officially in 2003, and the main brick-and-mortar store is now located in Monroe, Georgia. 
Their stock crops up all across the country in stores and spas, and they even put in appearances at Disney World's Food & Wine and Flower & Garden festivals. Everything is made in smaller batches to ensure freshness and quality, and they accomplish this with the help of moms unsurprisingly. So their focus is on local, handmade, family-owned, all natural, fresh, and quality products. 
From A to Z, they offer: Accessories- such as loofahs and soap bags or makeup erasers 
The Aller-Ease line- which includes things like shower bombs and essential oil roll-ons that help provide allergy relief 
Aromatherapy products- like lavender refreshing spray 
Bamboo products- such as bamboo body oil
The Bargain Basin- which is maybe my favorite link on their site, where they feature new inventions that result from adding or subtracting an ingredient here and there from an existing product for the sake of fun and creativity 
Bath Bombs with Surprises- which are just lovely to look at (and more so to use)
Beard Care- featuring products like balm and tea tree mint beard oil
Beer Soaps- such as pumpkin ale
Body Bliss body oils- like almond and honey 
Body Spread (lotion)- such as sweet vanilla 
Build-a-Bundle- where you can customize your own gift set 
The Clean Kids line- brightly colored and fun-scented soaps that will aid you in your nightly battle to get the kids to want to take a bath like the pirate ship selection 
Dead Sea Mud products- such as the face masks 
deBug Spray- excellent for the Arkansas mosquitos of July and August 
deOdor Sticks- all natural deodorant in scents like flannel (it smells heavenly- I swear)
Diffusers & Pure Essential Oils- such as peppermint or lemongrass 
Facial Care- including products like squalane oil and sunscreen
The Floral Collection- featuring scents like tulip 
Foot Care- including things such as peppermint foot polish 
Gift Sets- such as the pedi to-go set, a 4-pack of assorted bath bombs, the beverage scented lip balm set, or a box of assorted wine soaps 
K9 (dog products)- such as the wash with essential oils
The Lavender Collection- including the LaVanillaMint lip balm
Loofah Soaps- like the bamboo variety
Face Masks- like the cafe mocha scent 
Moisturizers- for your face, lips, and body
Nourishing Oils- such as the argan variety
The Peppermint Collection- which helps A LOT with headaches 
The Pink Collection- including a tub truffle and body spread
Pucker Sticks (lip balms)- in what seems like a million varieties, from birthday cake to sangria
Refreshing Sprays- like sweet orange
Roll-On Essential Oils- such as frankincense 
Scrubs (sugar or salt)- like blue Hawaiian or cabernet
Shower Bombs- singles or packs
Skin Sticks- solid lotions in scents like blue citrus 
Soap, Soap Sets, and Soap Sticks- like bags of soap tapas (a variety of soap slivers that look almost like peanut brittle) 
The Tea Tree Collection- including soaking salts 
Tinted Lip Balm- in three different shades
Tub Truffles- I loved the Christmas Cookie version we had around the holidays
Unicorn Everything- because little girls need some awesome self-care products too 
Wellness products- like the Amish black salve which draws out splinters, impurities, cysts, and spider bites 
And Wine Soaps- like pinot grigio 
Whew! 
And that's really only scratching the surface of just how much this little company has grown over the past two decades. 
In-house here at Remedy Road, we carry soaps such as the flannel scent, peppermint salt soaks, tub truffles like eucalyptus mint, kid-friendly soaps such as birthday cake or unicorn magic, essential oil roll-ons, hand sanitizer, and gift packs like the spiced cranberry soap, lip balm, and solid lotion.
So the next time you need to make a change to your skin care regimen or just want to try a new flavor of something, consider Rinse-ing.