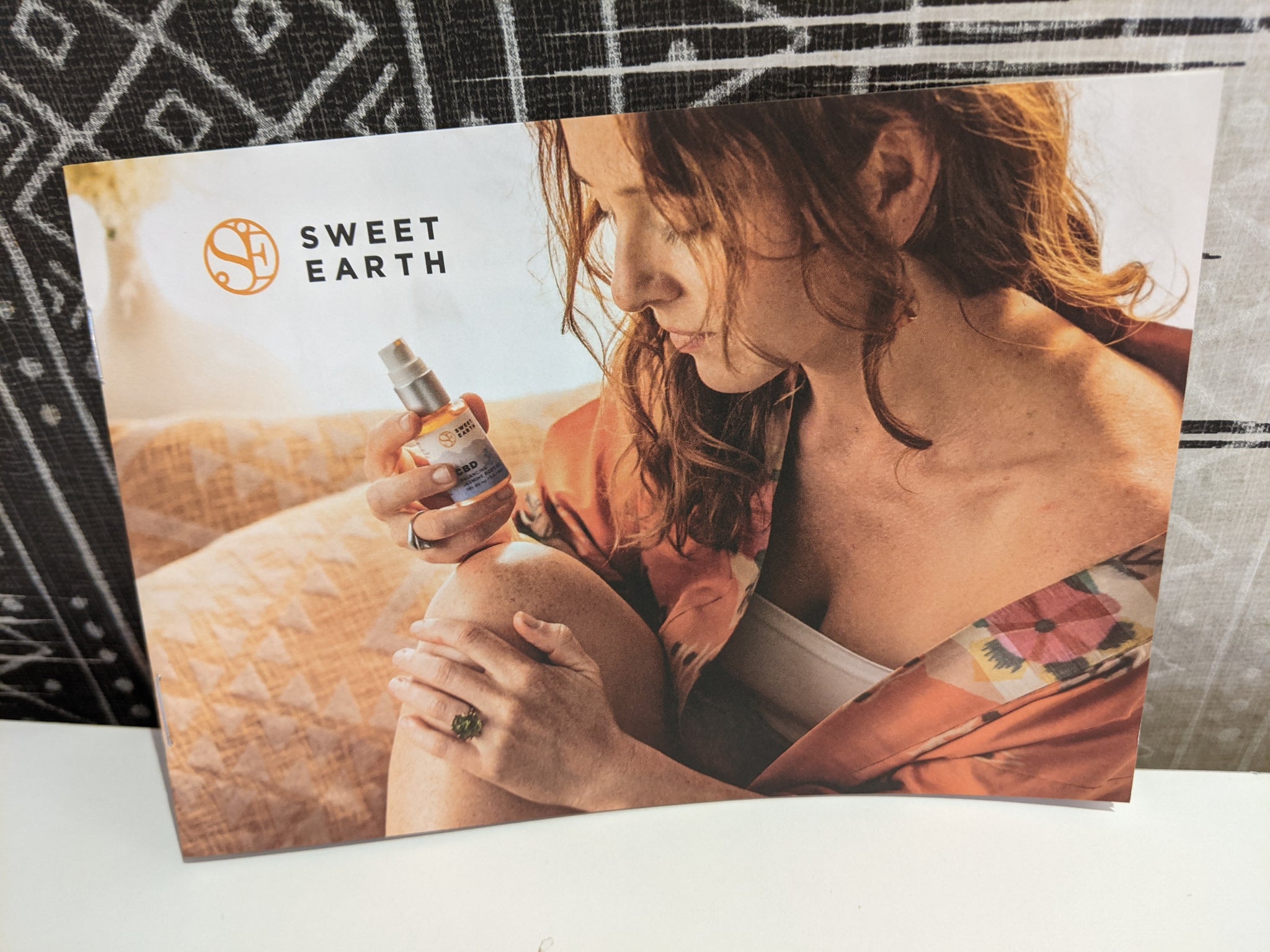 Blog #24- Spotlight on Sweet Earth Brand
Blog #24-
Spotlight on Sweet Earth Brand
CBD: it has become one of those acronyms that pops up more and more in media and everyday life, but despite that, we're still studying it, still discovering its uses. I can tell you, however, that it's not something Snoop Dog would enjoy. 
CBD doesn't utilize the part of the plant that can make you feel "high" (THC), instead focusing on the cannabidiol portion (CBD). Benefits can include treatment of anxiety, improvement of heart health, easing of symptoms of neurological disorders, and relief of pain including chronic pain. 
There is still much research to be done, and the FDA still isn't 100% on board, but that's true for much of holistic medicine, so I always suggest that people rely on those around them, those they trust who have tried CBD products (for example, I myself use CBD in my vape, as a body lotion, and in a muscle rub to help treat chronic pain in my back, shoulders, and neck which becomes a tension headache and later a migraine, so I swear by it to all my friends). 
And do have a conversation with your doctor about whether or not it could interact poorly with prescription meds you take regularly if you're ingesting it. 
Unsurprisingly, there are countless companies cropping up to capitalize on this growing trend, and one of the best out there, one we feature here at Remedy Road is Sweet Earth, located in Applegate Valley, Oregon. Per their website, sweetearthcbdcorp.com, the geology of the bedrock there combined with sub-coastal weather make growing hemp ideal. The Applegate River irrigates the gently sloping hills, and afternoon breezes keep it cool enough. In fact, the area is gorgeous, surrounded by oak savannas, conifers, madrone trees, and manzanita bushes.
(courtesy of Wikipedia)
This company combines geolocation, climate, natural elements, minerals, and a diverse number of plant strains into an excellent quality CBD crop. They even produce their own seeds to help ensure a consistent supply of products.
The greenhouses facilitate energy-efficient propagation and growth year-round. And the research and development crew is constantly striving to improve their proprietary strains, strengthen the plants, ensure high quality, and develop new products. They're also non-GMO, and they use no pesticides, herbicides, or chemical fertilizers. 
But most importantly, products are tested by 3rd party labs, proving that everything is both safe and legal, giving customers peace of mind. This company is just what you want because of that 3rd party testing, which is integral to CBD companies.
Their mission is to provide people with purely organic and sustainably grown CBD. They control the entire process (as opposed to other CBD companies which rely on CBD from the open market, importers, and suppliers)- from the team on the farm planting seeds to the one handling retail packaging. 
Plus, everything is 100% all natural, they're certified cruelty-free, and they're a member of the National Hemp Association.
(courtesy of Sweet Earth)
Under sweetearthskincare.com, you can purchase USDA certified organic skin care products. Anti-inflammatory CBD actually balances all skin types. Choices there include a facial cleanser, hydration cream, lip balm, a face care kit, hot cold muscle gel and cooling muscle gel, muscle recovery rub, bug deterrent, hand sanitizer, body oil, body scrub, soaks, a spa kit, beard cleanser, shaving cream, aftershave, beard oil, styling balm, and a face/hair kit for men. 
(courtesy of Sweet Earth)
Under the flip side, sweetearthpets.com, they offer a line of dog treats such as beef and cheddar potato, apple carrot oat, antioxidant blueberry flax, pumpkin flax, sweet potato cranberry, peanut butter crunch, and turkey and sweet potato CBD treats, in addition to  a line of similar cat treats too. So CBD isn't just for you- you can purchase its benefits for your fur babies too. 
CBD can help pets with seizures, anxiety, and chronic pain, among other health issues, and it does not make your pet "high" either, though it is important to work with your vet, especially if the animal in question is on other medications. 
(courtesy of Treehugger)
In-store here at Remedy Road, we carry the beard and mustache oil, hand sanitizer, hydrating lavender oat & honey facial cleanser, lip balm, muscle recovery rub, shaving cream, hydration cream, organic salve, and rejuvenating eucalyptus mineral salt soak. 
Come give it a shot- you never know when you're going to find your next best health and beauty product.