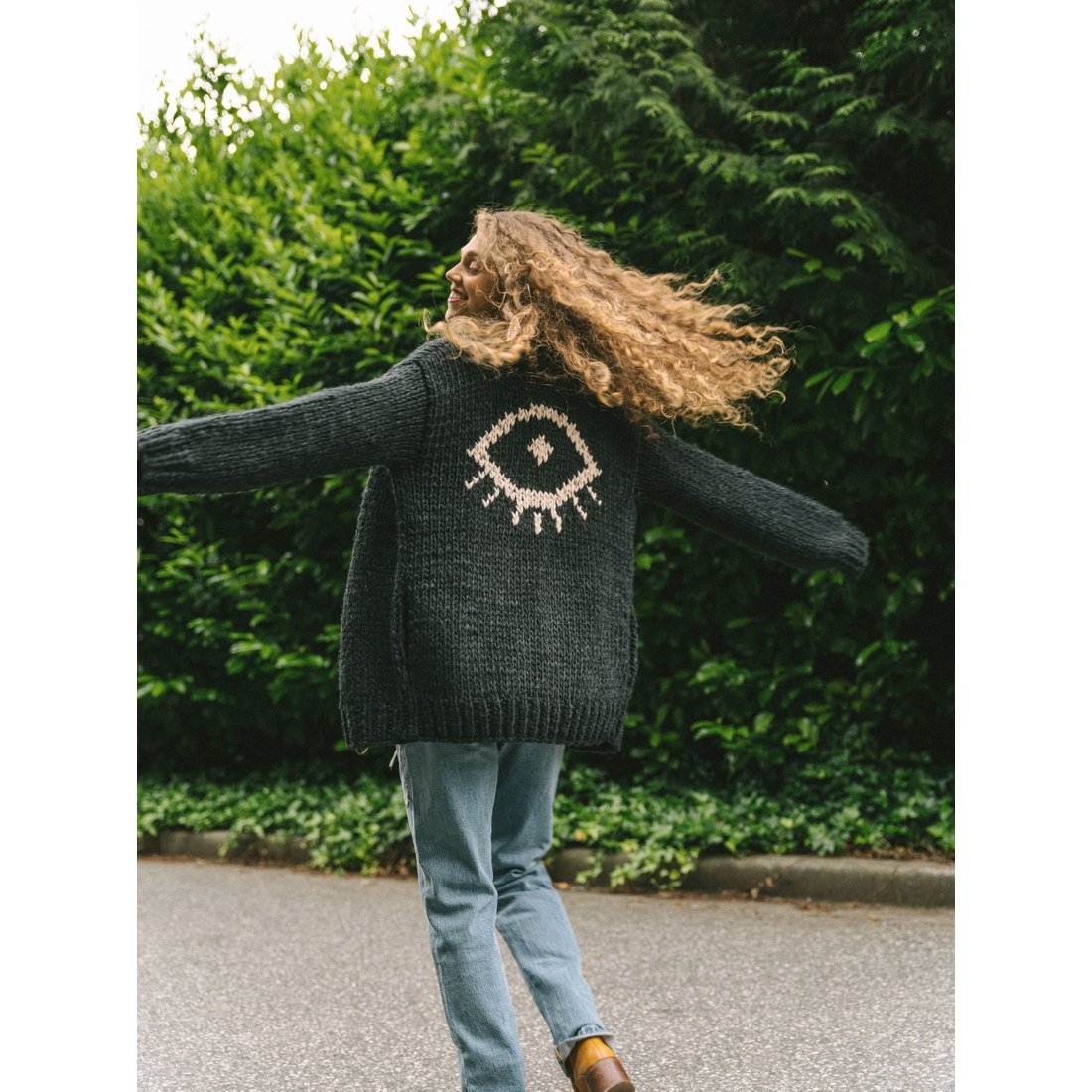 Blog #8- 14 Fall & Winter Tops to Fall in Love With
Blog #8-
14 Fall & Winter Tops to Fall in Love With

Hola, namaste, and ni hao my fellow fashion people. Today, we'll be diving into a proverbial snowdrift of wardrobe choices and coming up clad in everything from cozy ski sweaters to sexy crop blazers that will heat up those chill autumn nights. That's right- this blog post is a very merry deep dive into fall/winter 2021 tops. And up first is…
1. Planes, Trains, Automobiles, Slogans, and Graphics- Who said catchy phrases and pretty pictures were just for little kids to wear? After all, all girls just wanna have fun. You can go basic, like telling the world what you're into:
Make a pop culture reference that anyone born before 1986 should chuckle over:
Stand with pride solidarity:
Express your love for fur babies:
Or flashback to the 60s (and maybe pile on some smiley face socks and a beanie too):
2. The Curious Case of Benjamin Button-Down- However, if business is your pleasure and you're dressing for work (at a job that doesn't necessarily want you pushing fashion boundaries like a clothing boutique allows), go for a classy button-down. Something simple and silky:

Fun with color blocking:
Vibes of merry ol' England and Oxford (see center image):
Or a high fashion catwalk version of Kurt Cobain and Seattle grunge (see bottom orange number):
3. Rise of Planet of the Bodysuits- Similar to the catsuit we featured in the outfit portion of this blog series, the bodysuit has the upper hand I think because you can pair it with wide leg jeans or loose fit trousers so you don't feel quite so body image self-conscious. Try sexy and soft blue:

Simple and elegant white:
Or a high fashion work of art from the runway:
(honestly, who even needs pants when your top looks this awesome).
4. Raiders of the Lost Crop Top (are you picking up on my movie title puns yet?)- I know, I know, if you're over 30, you probably wonder if it's okay to try something like a crop top- is there an age limit on that like graphics on the butt of your pants or tube tops. Well, one might argue there's no age limit on any fashion trend as long as you play to your strengths and feel good wearing it (just check out Madonna's wardrobe, and the Material Girl is now definitely the Material Woman at over 60). And high rise jeans are the perfect thing to pair with a crop top to minimize the midriff. So if you have Madonna's abs or a nice healthy body image, try something simple like this at home:
Something fun with a tie-dye effect paired with dressier trousers for work like:
This one is so simple and classy that you could create any number of outfits from the staple wardrobe piece:
Go for a snugly high/low effect like this number:
Or downplay it if you feel more comfortable with just a hint of crop and enough texture to diffuse attention from your waist:
5. Inside Cutout- While some people like my mother (hi Mom- I love you) might wonder why in the world designers would purposely cut pieces of material out of a top (or in my case, jeans), the cut-out trend can really add some interesting detail. It doesn't even have to be that "unusual." Just look at the missing back piece on this adorable For Love and Lemons sweater: 

Or the missing sleeve on this comfy LA Made selection:
Or a true cut-out design which really elevates this basic For Love and Lemons turtleneck:
(and you can pair it up with distressed jeans if you really want to make your mom's head explode).
6. The Longest Sleeve (By a Yard)- Though it might not be the most practical fashion trend, sleeves this season are going for the longer, the better (but since when was fashion just about practicality- I'm looking at you 3-inch heels). If nothing else, it'll keep your arms and hands thoroughly toasty. Like this comfy basic:
This cool waffle-knit wide silhouette option:
Or go full-out with the flounce sleeve from LA Made:
7. The Devil Wears Prada… Vests- Maybe more than anything else in the fall/winter lineup, I'm super excited about the resurgence of the vest (I might have had five or six of these just lying in wait in the back of my closet for just such a returning trend). They're just so versatile. You can let it stand alone like the off-white turtleneck option below:
Go dark academia with an argyle print:
Or have fun with crochet and needlepoint like that adorable little rose number below:
Vests just make everything look cool and classy, and the designers clearly agree:
8. Under the Tuscan Shirt- Perhaps the oddest trend to me this year is a simple and practical clothing practice that people from places such as Seattle or right here in Northwest Arkansas are already all too familiar with: layering. So shirts under… well… everything is suddenly no longer just to deal with the radically changing temperatures throughout the day, but to be fashionable and chic. Put this sweet Victorian tee under a dress for work:

Try this cute puffer-sleeve ribbed tee under a smiley face graphic tank for play:
Or put this oh-so-soft root beer brown option under a fortuna gold cardigan for a gorgeous autumn color combo:
9. Teenage Mutant Ninja Turtleneck- Another very useful trend is the re-emerging turtleneck, especially for those of you who are cold-natured. Like this lovely lilac colored sweater: 

Or frosty pink, both on-trend colors:
Go lighter and even softer like this number which is pink? Purple? Both? Tough to nail this one down:
Or if, like me, you don't want to go full turtle, you can try a lower mock neck like this heavenly soft option:
10. Ski Sweater Patrol- A less practical option for those of us who don't live in New England, around the Great Lakes, or up in the Rockies, is this year's obsession with head to toe skiwear- hence why we're only talking about how to bunny slope or double black diamond up your top half because even places like the deserts of Arizona or steamy Southern Arkansas need sweaters and sweatshirts at night in January. You can go casual, use place names on your top to evoke the snowdrifts of Colorado or Switzerland like:

There are plenty of simple cable knit options too like:
And cardigans:
And even though they're no longer exclusively produced in one of the UK's most remote regions, you can go for a Fair Isle print, used now to refer to any multi-colored and patterned knit sweater:
11. Full Metal Shacket- In terms of outerwear for this season, our first entry is the shacket- half shirt, half jacket, neither, both, and a portmanteau to boot. These are therefore perfect for when it's chilly but not deathly so. And I personally love the grunge vibes that most of them give off thanks to the popular use of plaid:

12. Blazer(ing) Saddles- Another "sort of outerwear" option on the list is a blazer. If it never drops below 60 where you live, then you might go for one of the lighter tailored options we featured in the fall/winter outfits blog post, and a little bit of structure in your wardrobe pieces will be a nice change of pace. You can also go oversized boyfriend:
Or For Love and Lemons crop choices:
But if you actually get some semblance of winter weather, you might opt for something a little bit heavier and sized a tad larger as your outermost layer over many of the other pieces on our list like the button-down or the bodysuit. I enjoy thrift shopping for men's blazers to fit this bill, and you never know what other hidden treasures you might stumble across (like at our very own Remedy Closet).
13. Clash of the Fluffy Jackets- Is it loungewear only? Something you can and should wear out of the house and about town? You decide. This trend is another of those carry-overs from quarantine- we want to be warm and fashionable but still comfy. Enter the fluffy jacket. You can go for a trench coat-ish version of one of these:
Or something a bit more manageable while getting in and out of the car, running errands:
14. Wrath of the Puffer Jacket- Or you can go full ski mode, definitely a jacket, for work, play, or hiking through the woods (which is both work and play if you're doing it right)- the puffer jacket. These fade in and out of style in terms of fashion, but anyone who braves the outdoors regularly will tell you that these little gems will keep you both toasty and dry. Some of them even come with a built-in foldable pouch for easy storage if the day warms  up and you no longer need it. Plus, many companies who make these offer pretty gender neutral choices, like this one from United by Blue:


So in the end, we've now totally got you covered. But since we don't want this to turn into a real-life version of that recurring nightmare where you get to school or work and suddenly realize you forgot your pants, tune in next time to see what we should be pairing everything from the smiley graphic tee to the ski sweater up with on bottom (not to mention all the fabulous shoe options out there- enough to make Carrie Bradshaw's head spin right down to her toes in her Manolo Blahniks)!